THE END OF DUALITY
THE SCAR PROJECT / DAS NARBE PROJEKT

by BURKHARD VON HARDER
EXPERIMENTAL POETIC SINGLE SHOT DOCUMENTARY FILM PROJECT IN TWO PARTS
Part I: NARBE BERLIN | SCAR BERLIN, 78 min
Part II: NARBE DEUTSCHLAND | SCAR GERMANY, 960 min
BERLIN - 2009 (I) +++ BERLIN - 2010 (I) +++ BERLIN - 2010 (I) +++ NEW YORK - 2010 (I) +++ PARIS - 2012 (SEGM. II) +++ NEW YORK - 2013 (I) +++ BEIJING/北京 - 2014 (I) +++ BEIJING/北京 - 2014 (II) +++ ROTTERDAM - 2015 (I+II) +++ BERLIN - 2015 (I+II) +++ BARCELONA - 2015 (II) +++ BERLIN - 2019 (I) +++ BERLIN - 2019 (TRIPTYCHON) +++ SHANGHAI/上海 - 2020 +++ LA BIENNALE DI VENEZIA - 2022
News:
2022:
59. Biennale von VENEDIG :

From The end of Duality to the end of the post-totalitarian dream

The original

NARBE DEUTSCHLAND | SCAR GERMANY

AS PALIMPSEST

REVISED AND REPLENISHED AS INSTALLATION (930 min) /

UEBERARBEITET UND ERGAENZT ALS INSTALLATION (930 min)

APR 23 - NOV 27, 2022

CAMEROON PAVILION

"The Time of Chimeras"

(Global Crypto Art DAO)

https://www.timesofchimeras.io/en
2021:
THE END OF DUALITY:

THE SCAR PROJECT | DAS NARBE PROJEKT
Film distribution for Scandinavia
as
Video on demand

:
film på farta / The Scar | Die Narbe

MUBI / The Scar | Die Narbe

Opening: AUG 07, 2019 - 6pm :
NARBE BERLIN

|

SCAR BERLIN TRIPTYCHON Filmpremiere
Opening hours: AUG 07 - 15, 2019
Daily, 12am – 08pm.
at Potsdamer Platz
For the opening of BERLIN-BERLIN-PASSAGES FILMINSTALLATION CLB BERLIN will present the premiere of
NARBE BERLIN | SCAR BERLIN by Burkhard von Harder in a new version as a triptych with the recording of
the live sound performance of FM Einheit, which took place in 2015 as part of March music at the Kraftwerk.

Special Guest: Mariette Rissenbeek, new director of Berlinale.
Location: Potsdamer Platz
Renzo Piano Atrium Tower
Eichhornstraße 3
10785 Berlin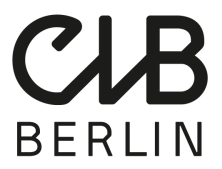 Archive:
May 2015
For the first time in 70 years a larger art installation in Chapel of Santa Ágata (1302) at Placa del Rei in Barcelona
with the outstanding altarpiece by Jaume Huguet from the fifteenth century.
Review:
Time Out Barcelona: Loop 2015 - Narbe Deutschland [spanish]

March 2015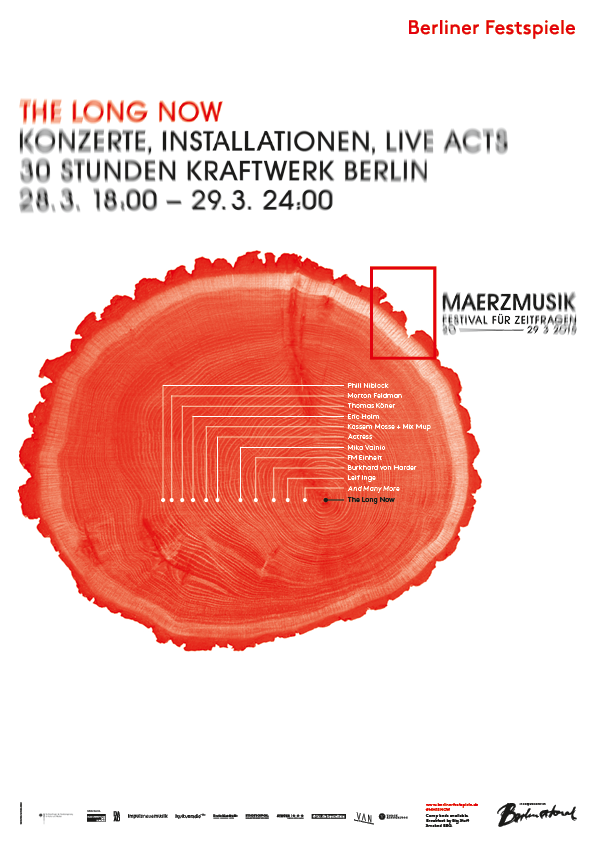 DURATIONAL CINEMA:

NARBE DEUTSCHLAND and NARBE BERLIN as part of
MärzMusik Festival for Time Issues Berliner Festspiele:

THE LONG NOW @ KRAFTWERK BERLIN
3/28 - 3/29, 2015, get the programm [as pdf]





"The Long Now" ist ein Ort der andauernden Gegenwart, ein Raum, in dem sich Zeit selbst entfalten und das Zeitgefühl unbekannte Wege gehen und sich verlieren kann. - Berno Odo Polzer, Curator


29.03. | 04:00 - 20:00 | Floor 4
BURKHARD VON HARDER
NARBE DEUTSCHLAND | SCAR GERMANY (2009–2014)
Experimental Single Shot Documentary Film Project
Improvisationen:
Anna Clementi, Stimme | vocals
Ulrike Brand, Cello
Elena Kakaliagou, Horn
Hilary Jefferey, Posaune | trombone
Duration: 16 hours
29.03. | 18:30 - 20:00 | Floor 8
BURKHARD VON HARDER
NARBE BERLIN | SCAR BERLIN (2009)
Live Sound Performance by FM Einheit


Reviews:

film på farta / Norway
Einarweissbescheid

Het Sublieme in 2015 [text by Floris Solleveld, Historiker und Philosophet Subieme in 2015 [dutch]
His Voice [czech]
Berliner Festspiele Blog: 30 Stunden JETZT [german]

Juno PLUS: Berlin Atonal - The Long Now [english]
Night Out @ Berlin [german]
Eine kurze Nacht im Kraftwerk [german]
Magazin für elektronische Musik & Clubkultur: Review 'The Long Now' [german]

Muziek.Kunst.Meer[dutch]

The long now at Berlin Kraftwerk post reflections [english]
Review 'The Long Now' [english]
Review 'The Long Now' [english]

Bachtrack: Ort der andauernden Gegenwart [german]

Neue Musikzeitung online:
'MaerzMusik eröffnet mit "Liquid Room" und gibt Freiheit über Raum und Zeit' [german]
January 2015:
IFFR 44th International Film Festival Rotterdam 1/21-2/1/2015

NARBE DEUTSCHLAND | SCAR GERMANY as part of SIGNALS: 24/7 | IFFR | International Film Festival Rotterdam:
NARBE DEUTSCHLAND and NARBE BERLIN in SIGNALS 24/7 - following Jonathan Crary's "24/7 - Late Capitalism and the Ends of Sleep"
NARBE DEUTSCHLAND 1/22-1/28 from 11am-11pm as hotel room installation at the Nhow Rotterdam
NARBE BERLIN: 1/23, 14:00, Lantaren Venster Cinema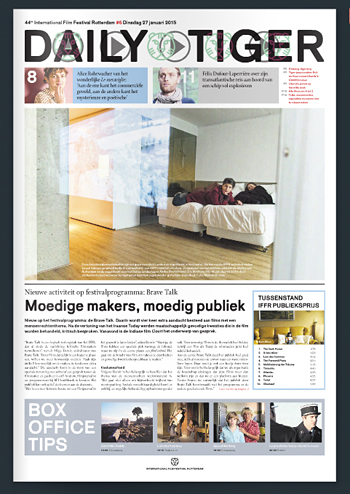 DAILY TIGER #6
IFFR, Feb. 27, 2015,
Cover: NARBE DEUTSCHLAND,
Hotelsuite in Rem Kohlhaas' De Rotterdam

FILMKRANT #373, Festival Issue 2/2015

1/28/2015
January 04, 05 and 07, 2015:
NARBE DEUTSCHLAND footage in Tannbach Trilogy ('TANNBACH - Schicksal eines Dorfes'),
in german tv [ZDF] - 'TANNBACH - Schicksal eines Dorfes' at YouTube
Article Focus Magazine [german]


October 2014:
World Premiere - Part II:


NARBE DEUTSCHLAND

|

SCAR GERMANY, 960 min, 2014
Opening:
October 25, 2014, Beijing / China (10/25 - 12/7 2014) BEING 3 Gallery - No.3 Plastic Factory Cultural Park, 129# Nangao Rd., Chaoyang Dist., Beijing

Exhibition Preface [pdf | english]





Ai Weiwei, Burkhard von Harder, Mianbu/curator, Beijing 2014

'Strong work - congratulations!'

Ai Weiwei

'This movie is completely like poetry'

Li Xianting, Chinese Contemporary Art Critic, Initiator/Supporter/Promoter of contemporary Art in China following the Cultural Revolution and organizer of the Beijing Independent Film Festival

'An unbelievable project for peace got off the ground.'

Irms Duschl, Artist

'Breathtaking!'

Andrew Robb, Minister of Trade and Investment, Australia

'Das da bisher noch keiner drauf gekommen ist.'

Spiegel Magazin

'Freedom is the biggest good!'

Hans-Georg Lohe, Kulturdezernent der Stadt Duesseldorf

'A film for the 22nd century'

Chinese Buddhist Visitor





Reviews - NARBE DEUTSCHLAND
|

SCAR GERMANY:

Artron Net, Oct. 25, 2014: 'Scars of the past' [chinese / 中文]

Global Times of China, Oct. 21, 2014: 'Scars of the past' [english]

Wallpost, Oct. 25, 2014 [chinese / 中文]

DCW // Deutsch Chinesische Welt - page 9 [chinese / 中文]




SCREENING DATES -
Part I: NARBE BERLIN
|

SCAR BERLIN

April 15 - 23, 2014:
Screening at Film Fest Week in Beijing - 20 Years of Beijing-Berlin City Partnership 2014

2013 & earlier:
August 2013:
Screening as part of the annual Open Day events of the Federal Ministery of Science and Education (Scharoun Saal), Berlin
November 2013:
Screening as part of the QUADflix Select program in Greenwich Village
October 3, 2009 – January, 2011:
Over 2000 screenings in the permanent exhibition (2100 years of German History), German Historical Museum (DHM), Berlin [50.000 visitors/month]
November 13, 2010:
Screening at Zero Film Festival, New York
August 21.- October 5, 2010:
Screening as part of the annual Open Day events of the Federal Ministery of Science and Education (Scharoun Saal), Berlin
Part I: NARBE BERLIN
|

SCAR BERLIN
Synopsis:
NARBE BERLIN | SCAR BERLIN: is a film dealing with the former division of the city of Berlin into East Berlin, the capital of the GDR, and West Berlin, a symbol for Western freedom of thought and movement. The Berlin Wall was carved into the landscape in 1961 and fell in a peaceful revolution in 1989. More than twenty years after the eradication of the German divide, The Scar features the total length of the approximately 160 km-long former Death-Strip isolating West Berlin within the East German State: this heavily guarded zone, between 70 and 500 meters wide, running the length of the Wall, reinforced the "antifascist protection bulwark". Filmmaker and visual artist Burkhard von Harder has enlisted the aid of a helicopter and pilot to follow the precise course of the former dividing line. Starting and ending at Schönefeld airport, this real time film document shows the "Scar" still in the process of healing. The attempt to find the "path" is akin to the attempt to recall permanently the past as part of the struggle of contemporary German society to comprehend its history. The land itself carries invisible traces of what has been written on the ground. It is the retracing of the trace that is the intent of this film. By doing so, Burkhard von Harder seeks to create a meditation on the past and perform an act of cinematic healing.
conception, production, direction: Burkhard von Harder
photography: Evert Cloetens
editing: Alex Beyer
original soundtrack: FM Einheit
(add. compositions by Klaus Wiese (1942-2009)
consulting: Helen Adkins
helicopter operation: Air Service Berlin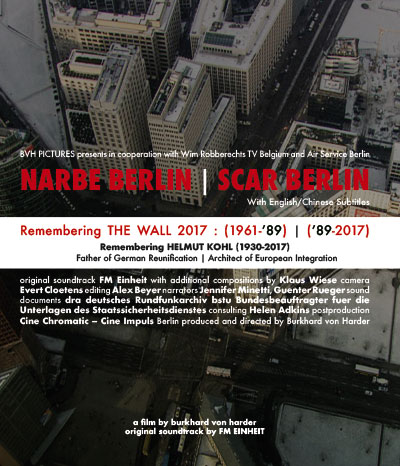 78 Minutes, 2009
20 years after the Fall: mapping the entire 156 km of the remains of the former wall from above. Persisting uninterrupted aerial views of the snowcovered city on a grey day in January 2009.
original soundtrack:
FM Einheit
and
Klaus Wiese
reduxed 2013: letterboxed with subtitles [english / chinese / 中文]
(full image revealed by downscrolling)
Trailer @ vimeo
Slideshow
Part II: NARBE DEUTSCHLAND
|

SCAR GERMANY
Synopsis:
As part of the Iron Curtain that ran from the Black Sea to Finland with an overall length of approx. 8500 km, the inner german border was splitting the country itself.
The camera is following this line as close as possible, sometimes getting lost. The aim is to produce one single uninterrupted movement - in its entire length the film may have as few as 50 cuts (alone due to the need of refueling the helicopter).
Slowly the camera follows the line below through the four seasons in the course of more than three years: what appeared to be a line proofs to be a cycle that morphs into a spiral, indicating change.
Slow film - slow music:
Important to the integrity of the work is its mesmerizing soundtrack, matching 16 hours of constant image flow with 16 hours of drone music, composed and performed by the late Klaus Wiese (1942-2009). A brief historic voice recording by Otto von Bismarck is referencing the time span of a 100 years (1889-1989), setting the tone, other than that the installation is envisioned as empty canvas the viewer is invited to fill him/herself.

NARBE DEUTSCHLAND
|

SCAR GERMANY, 960 minutes, 2009-2014

A 16 hour journey through the physical landscape and ideological boundary that once divided the world, mapping the complete length of the former Iron Curtain (1378 km) - a visual and transforming journey that in its best moments can remind you of a Barnett Newman painting in motion - continuous 16 hour soundtrack by Klaus Wiese (1942-2009)

with funding by Medienboard Berlin-Brandenburg
View the trailer in the background by downscrolling or at vimeo:
Trailer
Narbe II (100 minutes version)
First segments of NARBE DEUTSCHLAND were screened at Palais de Tokyo in 2012 during Les Rencontres Internationales Paris/Berlin/Madrid and in Jinan, China in 2013.
The world premiere took place in october 2014 in Beijing / China.
Screening dates & reviews
NARBE BERLIN
|

SCAR BERLIN to buy:
NARBE BERLIN
|

SCAR BERLIN
Streaming Video [Original version] at:

as Blu-ray [english / chinese / 中文 subtitles ] / revised edition @: